long time no hear, no speak, no see.
apols on that. have been on the road (mainly canada) trying to appraise how i fancy, or am fancied, for my books, STONED & 2STONED and how they might fare as a movie or a min-series on cable.
had a great time at the
TIFF
where mickey rourke took home all the money for "the wrestler"
i also bumped into jimmy page. why not,the party was for jimmy, jack white and "the edge" and the film
"it might get loud"
. they were plugging the film at the TIFF.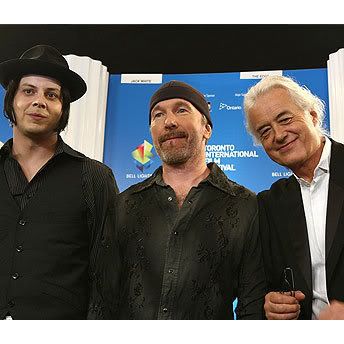 jimmy and i chatted about soho. what else are two london lads
supposed to chat about when they meet up in toronto ?
sorry this one is short but i'm about to undergo three days of dental work, then it's off to the UK and manchester for
In The City
. we'll be reporting to you from there.
*************************************************************************************
so adios norman whitfield. he was probably after phil spector my forever favourite
producer. he gave me hope and courage at a time when my lights were low, by the way he enlarged the canvas. when most folks were going "tea for the tillerman" and dressing down in denim, norman whitfield was painting the ghetto, war & the world at the end of the very turbulant 60's.
my mate harvey kubernik caught this from berry gordy, jr in a piece in his book
"THIS IS REBEL MUSIC"
.
"norman to me was probably the most underrated of all the producers, because he was producing by himself. and he would deal with different sounds, different beats, change with the times and write his stuff, and also barrett strong would work with him as a writer on many of his things. norman was innovative and he had fire. and he had a different kind of style. his beat was different and could go from "cloud nine," "psychedelic shack," "papa was a rolling stone," to "just my imagination." he was sensitive and I think he could do so many different types of things. Then he'd come right back with "war" and then "ain't to proud to beg."
he could take one chord, like on "papa was a rolling stone," and play the same chord and do all these different beautiful melodies and things that many people could not really imagine this guy doin'. and I would watch him and he did it all by himself as a producer. He would work with five guys in the temps and he would change leads on each one. he would pick the right lead for the right song, ya know, and he'd utilize all five of those leads in a song that was just incredible.
when I listen to 'em today, now that I have time to listen to 'em, I'm saying, "wow! this guy was probably the most underrated producer we had."
**************************************************************************************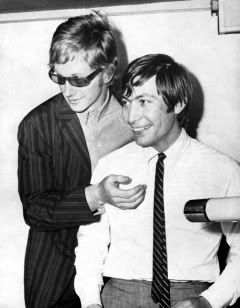 bill wyman just sent me this snap of myself and charlie watts in the summer of '65. i may still have the jacket, or be wearing one damned similar. i know i have the shades. PS whilst in toronto we saw an immaculately fit donald sutherland biking around the park. he gave us a wink when we said "could it be ?" remarkable worker. nice to see him out & about.
gotta go walk the dogs....peace & stay away from the bathrooms, george......