i'm just back from buenos aires , in argentina. it remains one of the most beautiful, musically inviting cities in the world. i had been invited to participate in a DVD about the effect of the rolling stones on argentina and the extra special relationship that exists between the group and the nation. special it is…
when the stones are in buenos aires the city is their's. i've seen the raves, the excitement in many parts of the world , but in buenos aires there is something more - an extention that has the whole city belonging to the stones. when they are in town they could run for office and get voted in. mind you, this is a country where the current president has put his wife up to replace him..... (sound familiar?)
as i said it's a musical town and it's #1 of the latin american countries that "get" our music; they have the ability to be successful with it in a form that is not embarrassing. i've been privilaged to work with two of the most popular argentinean acts ;
los ratones paranoicos
(translates to "the paranoid mice") and
charly garcia
. i had a tremendous time, and many hits, with the ratones from 1990 to 1996. after that, the economic crash got in the way of future work. i'm happy to say i'll be producing the band next year in march.
when i was in B.A. in 1994, the stones came to town for five nights; 88,000 people per night in the plata football stadium. to see the full moon just sit above the stadium, to see the stones in the third world is a different trip. the band were amazing, as they nearly always are, but there was a special amazing aspect to this meeting of the first rock n' roll band and the third world. an event such as five stones nights in argentina brings the addition of hope. if you are up for seeing the band again may I suggest you pick a foreign venue and have a totally different experience. i realize that this thought is totally devoid of economic reasoning, but in an optimistic world the local cost of the tickets may help with the fare.
anyway to walk through a city that belonged to the stones was amazing. Like "blade runner" re-done with more a parting-of-the-waters than the taking of lives. the director francis ford coppola has set up shop in B.A. and is prepping a film, also to be recorded in march, with matt dillon. alas, somebody read the press announcement and decided to rob the director's house. so, if you get there look for an italian eatery called guido's, write to me for other tips and remember they have only been driving on the "right" side of the road since 1945.
when i was there to see the stones in '94; so were alan parker, madonna and everyone involved in filming " evita". outside the hyatt hotell scrawled on a wall (in spanish alas) was the statement "madonna go home - we have our own whores".
************************************************************************************
program note ; interesting bill if you are east, and another op to catch mr. al
kooper..... speaking about al kooper has me thinking of the scorsese "no direction home" and noting that tom petty has issued his equivalent, " running down a dream" , a film by peter bogdanovich, a 4 disc set including 2 DVD's... five hours of never seen before etc.... and elsewhere ... a book. is this a trend, the only way to work for the senior crooners? i hope it's great, but the mind boggles at what could be next.....
I'm Not There: In Concert
November 07, 2007 at Beacon Theatre
A Celebration of Todd Haynes' Dylan Film
In Todd Haynes' biographical Bob Dylan film, "I'm Not There," Christian Bale, Cate Blanchett, Marcus Carl Franklin, Richard Gere, Heath Ledger and Ben Whitshaw all portray the legendary singer-songwriter.
The talent lineup for I'm Not There: In Concert, a live celebration of Haynes' Bob Dylan film, consists of:
Calexico
Cat Power
The Roots
My Morning Jacket
J Mascis
Yo La Tengo with Buckwheat Zydeco
Mason Jennings
Joe Henry
John Doe
Michelle Shocked & Jimmy LaFave
Mark Lanegan
Terry Adams Rock & Roll Quartet
Dan Hicks & The Hot Licks
Al Kooper & Funky Faculty
Ian Ball & Olly Peacock (Of Gomez)
Lee Ranaldo & the Million Dollar Bashers
**********************************************************************************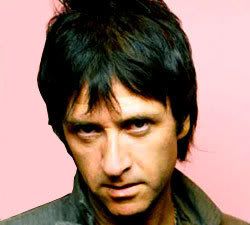 johnny marr, guitarist extraordinaire; writer and co-founder of the smiths (the group that defined and rescued british musical art and statement in the 80's) and more recently co-writer, co-producer and guitarist in the wonderful
modest mouse
. johnny has a new gig.
he's now a professor at the university of salford in manchester, england. johnny is a gent and a mate. when i had returned from my "out to lunch" period and published my first volume of biography he wrote me an e-note welcoming me back into the world and asking me to call him next time i was in the UK. i did, we lunched, we mated and still do. i've seen modest mouse recently in mexico city and vancouver. they are an amazing live band. the two drummers would make dennis wilson wanna come back to life. in fact the band evokes everything the beach boys might have become had they followed the path of " holland"; " sail on sailor"; 20/20 as opposed to the unzen vegas whims and wishes of mike love.
read about johnny in
the guardian
.