happy memorial day.
here is a contest, complements of my old friend,
sid maurer
.
simply shoot me an e-mail at:
loog@undergroundgarage.com
and i'll pick 10 random winners to receive a copy of the below litho. the litho was done by sid and if you'd like to win, e-mail me with the name of the muscian in the print. its also his birthday this monday, on memorial day.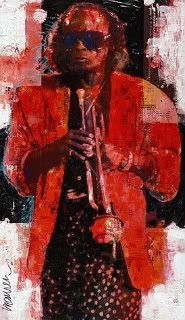 just send an e-mail, again to:
loog@undergroundgarage.com
, make sure to include your address and i'll randomly select 10 winners. the litho usually goes for 1,000 plus dollars (thanks sid). just tell me the artist in the litho.
here's an excerpt of what sid wrote in my book 2stoned:
Sid Maurer, Artist/Entrepeneur: When I was 17 or 18, I got a job as assistant art director for Columbia Records. At that time, they were in Bridgeport, Connecticut, so I traveled two hours to get to work each day. Little by little, I got known as the guy in New York who did album covers. One of my big accounts at that time was Epic Records, a division of Columbia. They were now in New York City, and a good friend of mine became head of Epic, and he called me one day and asked me to come down and see him. He wanted to know if I wanted to do all of the album covers for the label—if I did them all, could I do them for $1,000 a piece. So I took on all of that work, and became the big studio in New York. I did all of the Epic covers, and that's where I met Donovan. Donovan came in one day, and I was told to meet with him, and we became friends, and eventually became his manager. The guys who ran Decca Records, Jubilee, Roulette all of these labels that started in the mid-to-late forties and on through the fifites, all of these guys came out of the garment district. They weren't record men, they were schmata guys! They didn't know a fuckin' thing about music; they could care less. What they did do was they hired good producers, guys like Bob Thiele. These guys brought in the acts like Buddy Holly and the McGuire Sisters, Teresa Brewer, the Hi-Lo's As the business grew, and these guys slowly sold out, the independent guys like Jerry Blaine from Jubilee stayed in it. Of course, so did Morris Levy.
In about 1968 I met Donovan. The guys in the fifites were guys like Fred Frank, Len Levy. They were still working for Columbia. They hadn't yet switched over to the time where executives were wearing jeans; it was still suits. One of the reasons that Don and I became friends was that I didn't wear a suit. When I first met Don, he looked like Jesus Christ. He was wearing a long white robe that went down to the ground, with bare feet. Which is why they said, "You've gotta come over right away and meet this guy." We went back to my suite, smoked a couple of joints and got comfortable. We spent about three days together, just working on his album cover. Meanwhile, Freddie Frank noticed me and we became pals. Freddie was a promotion man at Epic, and he was one of the few guys who knew how to reach the deejays quietly. He drove a lot of records, Freddie. Freddie and I finally hooked up, and we went into the record business together, we started a company called Roadshow. We went into the R&B business, the black business. See, Freddie grew up in South Philadelphia, and he knew all the brothers anyway, and Freddie could take care of the brothers. They wouldn't take money from a white man. Freddie was almost black.