the finest article i've read in a while is the bill wyman interview in the UK daily telegraph conducted by robert sandall. i have attached the article
here
for your enjoyment.
mr. sandall is not your usual journo.
he is a former punk and post punk musician and a member of bands that "have never gone down in history". he's a former ski-bum, he's worked at Q magazine and the UK sunday times…and was a good choice for bill wyman.
whilst at the UK times he wrote what must have been the last, or almost last, piece on the revered champ of brit DJ's, the late john peel. (
you can read here
)
peel spoke with robert just before he left for his last holiday in peru, which is where he died. sandall was actually editing the piece when the news broke that peel had died. tiz a moving piece, it was as much a friendly, concerned diagnosis as anything else the article contained.
i may have met sandall in the mid-90's. it was the oddest of occasions. i was in london and to have dinner with my barrister. (a barrister is the legal person who stands up for you in court and wears a white wig and black robes and
addresses the judge as "m' lud"). my barrister was a very accomplished
lady named margaret puxon. in the UK high court system they are known as QC's. you may be familiar with them from a myriad of tele and/or filmed efforts. these efforts range range from "witness for the prosecution" to TV's "rumpole of the bailey". anyway it was an odd place to meet robert but my QC liked to "keep in touch with what youth was up to".
i like the bill wyman article because mr. sandall has allowed bill to skate over the sensitive area of his relationship, both personal and professional (with the rolling stones), without having bill fall through the ice (the hole determined by sandall's pen). in addition the sub-editors (those who determine the headline) have gone gentle on both the subject and topic which is a rarity in the UK and almost anywhere.
we live in an era where pro-tools have both improved and debased our music
and it's potential to affect our daily lives. at the same time the computer has both improved communication and debased the meaning and standard of
journalism, via the "everybody is a star" blog-ville in which we all reside.
of course it's more than computer, it's a whole social discourse ranging
from rupert murdoch to the decaying of the family unit by economical and
egoic wants and needs. also its our affection for schadenfreuden and the
belittling of others seemingly more fortunate than we may be. this article
is from the old school about the old school and it works. it's a rarity.....but so is bill.
***********************************************************************************************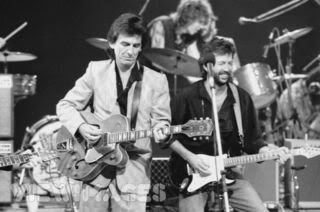 a couple of months ago i raved both on my shows and on this page about the
eric clapton biography
. i had read an extract that was published in
VANITY FAIR
. a few days ago i popped into my english book
carrying shop here in bogota and picked up a copy of the actual book.
i was concerned about it from the moment of purchase. it was thinner in pages than i'd thought it might be, it was lacking in photographic amities to the written
proceedings and the cover was brasher than i'd imagined. the cover was more Rosanne barr or farrah fawcett than gore vidal or gay talese. i sorta ignored this as i cancelled my nightly meet with " law & order" and set into eric. i was
disappointed.
vanity fair had done a superb job of presenting the best aspects of the book. the rest did not stand up to that standard. i have written two volumes of biography and am hard at work on a third. it is a very thin line, like the one tightroped by bill wyman, chez robert sandall in the above telling the truth without going tabloid. with ronnie wood there is no danger, he does not even notice it. regarding eric, had my life been changed and futured by seeing God in it's forms as cream and/or blind faith and had that treasured moment trampled on by eric talking about the gig or tour that had improved my lot as something he was " not there for"…i'd feel like whacking him. honesty has to be respectful to another fellow's recall.
another vomit moment is eric's naff betrayal of his "best friend" , the late beatle george harrison. by betrayal, i do not mean it was back in the day. i refer to the way it is written up now. eric has given both God and musos a bad name with his self-serving agenda of dismissal and moving on.
sorry eric, but this God can move to the judus section of the table.
******************************************************************************************
staying in the realm of the musical holy we have some great VATICAN PICKS
coming up on the
UNDERGROUND GARAGE
. our "vat-man" has come up with a slew of goodies for the upcoming weeks.
this week it's the stones and "get yourself together", recorded in november of '66 at olympic studios in london. i do not actually remember this session. the times they were a-straining and some six months later i would be leaving the band. this track is hitherto unreleased. glyn johns was the engineer. ian stewart is tentatively playing piano holding back whilst wondering whether
his little three chord wonders are going to pull it off. they don't, otherwise it would have been finished, mixed and released. the human riff (keith)
has the figure down, the bottom end is starting to swing and mick is gamely
trying to secure a song. tiz a gem.
we have quite a few more gems coming up from VAT-MAN in the coming weeks so please listen in.