please enjoy a blog from scottish impresario, pop-mavan on new jersey's second finest and a rare picture of our vatman doing his thing for the pope...
vatman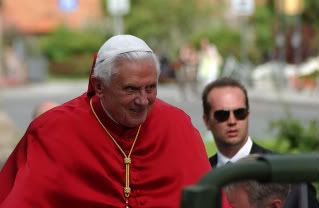 alan mcgee blog (
CLICK HERE TO GO TO ORIGINAL POSTING
)
"Alan McGee on music: Why Bon Jovi are mythic New Jersey artists
I feel Bon Jovi have received a bad rap from people with who believe themselves to have rather superior musical tastes. Last month, I was hanging out with my friend Jerry Jaffe, an all-round legend in the music industry who was head of Creation Records in the US, managed the Jesus and Mary Chain and Saint Etienne, and signed iconic bands like Motörhead and the Jam. Whenever I introduce Jaffe to friends by listing his achievements, he always adds, "Yes, but I also signed Bon Jovi – harass me now". But, you know, signing Bon Jovi isn't that bad.
Bon Jovi. I guarantee that once you've heard these words, you suddenly have one of their songs in your head: Have a Nice Day, Livin' On a Prayer and You Give Love a Bad Name. Their name also makes me think of New Jersey.
Bon Jovi form part of a mythic pop-culture trilogy that has emerged from New Jersey. Alongside Bruce Springsteen and David Chase (creator of The Sopranos), they form an almost perfect triptych representing the inner workings of New Jersey's Italian American experience. What about Frank Sinatra? Born in Hoboken, Sinatra seems to represent the ideal of escape, whereas Chase, Bon Jovi and Springsteen have continually looked back to New Jersey for inspiration. Without these artists, New Jersey would certainly have been painted in different colours for the world, if thought of at all. These singers have helped give the state its own identity to such a degree that it often feels like an additional character in their narratives.
David Chase's Sopranos has had enormous pop-culture ramifications, influencing the way people view New Jersey. The opening credits make it immediately clear that the landscape is integral to the story. A Jersey native and only child of Italian immigrants, The Sopranos is based on both Chase's psychology and knowledge of Newark, transposed on to a specific criminal environment. Chase illustrates the daily lives of people living within New Jersey's mafia culture – whether it be the nature of violence, emotional brutality, and working-class men made good through mafia connections. Through violence, Chase explores significant ideas about redemption.
Funnily enough, Chase employed Springsteen's guitarist Little Stevie, aka Steve Van Zandt, as gangster Silvio Dante. Springsteen, of course, is well known for his interpretations of New Jersey life in song. Significantly, he also explores redemption in his songs, which are a tribute to the working class. His reincarnation as a stadium-rock Woody Guthrie expertly captures the tragedies of lives gone wrong and the compelling struggle for hope and salvation.
Bon Jovi entered the arena with the 1986 hit Livin' On a Prayer from the album Slippery When Wet. This classic song shares a similar backdrop to Springsteen's Born in the USA, both anthems offering hope during a time of economic struggle and recession. Bon Jovi sing about two working-class characters, Gina and Tommy, who struggle to make ends meet but decide that "it doesn't matter if we make it or not/we've got love and that's a lot". Bon Jovi have returned repeatedly to these fictional characters, following their lives in the songs 99 in the Shade, Fear, Lie to Me, It's My Life and Novocaine.
You may scoff, but even Springsteen recognises Bon Jovi's talent. They often share a stage and the vibe is very much about working-class Jersey Boys done good. I truly believe Jon Bon Jovi deserves critical recognition for his abilities as a world-class songwriter, but instead people focus on the
poppy hair-metal genre in which he previously worked. Bon Jovi are easily one of the three creators who have made New Jersey a place of inspiration, creation and expression for those seeking universal salvation and hope."